Welcome to Jack Olsen Loft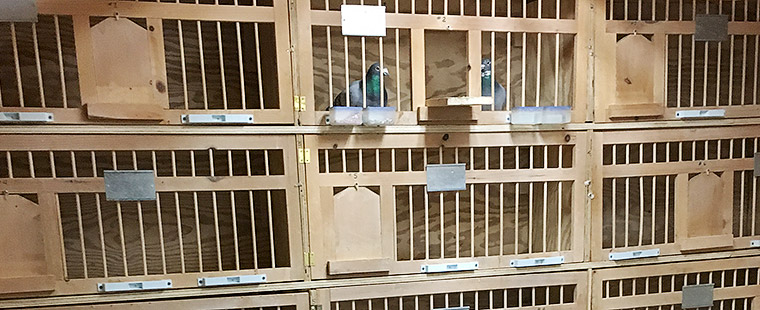 Our breeders resting.
Welcome to our website and thank you for taking the time to visit. I will be adding more information about my birds and the races on a regular basis.
My first interest in pigeons started when I was 9 years old. My Uncle always had a loft of beautiful homers. He didn't race pigeons it was just his hobby, but he sure knew a lot about them. I lived next door to him in New Jersey. He was a New York City Fireman and he was away 3 days a week. During his absence, I always took care of his birds. It was during this time that my fascination about pigeons began to grow.
I started racing pigeons in 1980 with my loft in Bob Roche's yard. At the time Bob was the president of the Monmouth Park Racing Pigeon Club; nobody loved pigeons more than Bob. He loved racing pigeons but had a wide variety of fancy pigeons which he loved to show. I raced out of Bob's yard for over 3 years and with his help and knowledge, we both were very competitive winning many Club Races, several Bond Races and Combine Races. You couldn't ask for a better friend than Bob.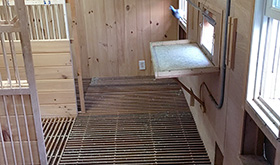 Inside my youngbird loft.But over the years, it became more difficult to put the necessary time into the sport and having the loft in Bob's yard allowed me to continue racing, but when your loft is not in your own backyard it takes a lot of time away from your family. During this time, my son was born and tough decisions had to be made. I could not devote the necessary time to my family and be competitive racing pigeons. So after much thought I decided to put my racing career on hold.
In 2008 with my family grown, I had more time on my hands and I still had that fascination with pigeons. I guess it never truly goes away.
So I decided to do what I had wanted to do for many years, return to racing pigeons. I built a 10' x 12' flying loft and since it was after breeding season, I decided to purchase birds at various auctions. Big mistake! The first season back was a disaster. The first six races I was toward the bottom of the race sheet. It wasn't long before I realized many of the birds I had purchased at the auctions were sick. I had bad returns, sick birds and I had only flown 7 races and packed it in for the year.
Moving Forward
I realized that there was a lot to learn to be competitive in the sport. The first year back was a learning experience and I knew I had to make some serious changes if I was going to be competitive in the future. Although I found that the sport had basically remained the same, there were major improvements in health products, vitamins and medications. I believe the biggest difference in today's pigeons than in past years is the stamina, speed, consistency and the conformation of today's winning pigeons.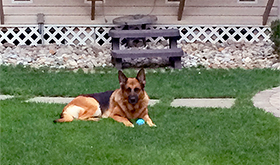 Ava Watching the Lofts!The first thing I needed to do was find quality racing pigeons. So after much research and friendly advice, I decided to contact Mike Ganus. I purchased 10 pigeons from Mike that year and the quality was evident. Although it was a huge upgrade, anyone who races pigeons knows they will not always breed winners. I had several that proved to be very good breeders but the one that proved to be my very best was 05 GFL 802.
That same year I purchased several birds from my friend Ron Deisher, the best bird from Ron was 08 WCI 203. I then paired these two pigeons together and the first year breeding they produced 09 AHPI 3302 and he won the 250 mile Tri-State Bond Race, several weeks later, he won the PAOF 350 mile One Bird Derby. He is also the grandfather to my 2014 World Trade Center Winner. His brother 09 BSC 1604 won the 350 mile One Bird Derby!
I founded my loft around these four pigeons. Their children and grandchildren are winning and producing winners to this day.
My goal today is to keep improving my breeding program. I am always looking for top performance pigeons. In 2012 I met Ulrich Lemmens (middle and long distance champion of Belgium) at an auction in New Jersey. At that auction, I purchased BE 12-6032697 a son of one of Ulrich's top breeders Peter's Best, who is a brother to Ulrich's World Class Pigeon "DeGust".
In his first year of breeding, (BE 12-6032697) produced several top performance pigeons including 3rd and 23rd place in the 2014 World Trade Center Memorial Race. Since then I have purchased several more birds from Ulrich including (BE 14-6100739) a direct son of Ulrich's world class breeder "DeGust." These additions have made a significant improvement in my breeding loft. My goal is to continue working to add a collection of great pigeons to further increase the level of quality.
Today I am focused on breeding fast maturing tough endurance racing pigeons that will fly 150 miles to 400 miles as young birds.
For more information and pictures about Ulrich's birds go to our Ulrich Lemmens page!